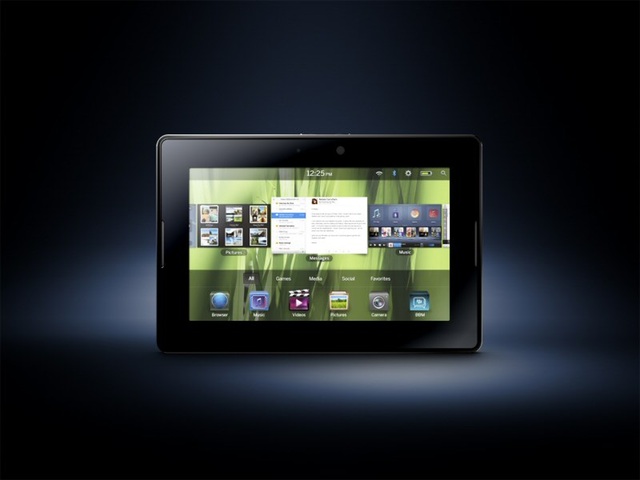 Tabs sind ja wohl gerade in der IT Szene der heißeste Scheiß – wer hätte das nach der Pleite des Formates Anfang der 2000er noch für möglich gehalten. Alle namhaften Consumer Electronics Hersteller springen auf den Trend auf. So auch RIM die auf der Hausmesse DevCon das Blackberry PlayBook vorstellten. Anders als es der Name vermuten lässt ist das PlayBook als "enterprise tablet" positioniert und wird perfekt mit der Blackberry Infrastruktur zusammen spielen.
Das Innenleben des Blackberry PlayBooks kann überzeugen und übertrumpft augenscheinlich die Tablet Konkurrenz. Im Herz wird ein ARM Dual Core Prozessor mit 1Ghz unterstützt von 1Gb RAM seine Dienste leisten. Schöne Einblicke garantiert der 7 Zoll LCD Display mit einer WSVGA Auflösung von 1024 x 600 Pixel (vgl: iPad 9 Zoll, Galaxy Tab ebenfalls 7 Zoll). Weiter Hardware Specs:
* 7inch LCD, 1024 x 600, WSVGA, capacitive touch screen with full multi-touch and gesture support
* BlackBerry Tablet OS (QNX) with support for symmetric multiprocessing
* 1 GHz dual-core processor
* 1 GB RAM
* Dual HD cameras (3 MP front facing, 5 MP rear facing), supports 1080p HD video recording
* Video playback: 1080p HD Video, H.264, MPEG, DivX, WMV, Audio playback: MP3, AAC, WMA
* HDMI video output
* Wi-Fi 802.11 a/b/g/n
* Bluetooth 2.1 + EDR
* Connectors: microHDMI, microUSB, charging contacts
* Open, flexible application platform with support for WebKit/HTML-5, Adobe Flash Player 10.1, Adobe Mobile AIR, Adobe Reader, POSIX, OpenGL, and Java
* Ultra thin and portable with dimensions of 5.1?x7.6?x0.4? (130mm x 193mm x 10mm) and weight of less than a pound (approximately 0.9 lb or 400g)
Auf Seiten der Software setzt man auf eine eigene Plattform Blackberry Tablet OS. Es ist eine komplette Neuentwicklung auf Basis des vor wenigen Monaten übernommenen QNX. Verfügbar wird das PlayBook mit Q1 2011 sein. Ein genaues Release Datum oder der Preis sind derzeit noch nicht bekannt.